Apprenticeships & Employee Training
Why work with Insight?
Because we know and understand General Practice, we recognise the type of employee you need - your business is unique, a receptionist in a doctor's surgery is very different to a receptionist at the local gym. You may think everyone would know this, but many don't - local colleges and training organisations just want to place candidates, they have no idea what primary care is. Finding the right candidate is key to the success of your apprentice and we know just what qualities you are looking for.
Our recruitment process could not be simpler; we carry out a complete recruitment screening process for all applicants. We screen all candidates to ensure they are the right fit for your business. We source local candidates who have demonstrated the right skills and personal qualities and who are interested in working in a Primary Care setting. This way of recruiting is the perfect opportunity for you to mould a young person to fit the role you want them to fulfill. No, they won't bring lots of experience with them but that is reflected in the training wage they are paid; however, they won't bring bad habits either – even if you employ an experienced member of staff you would still need to train them whilst paying a premium for their experience.
The apprenticeship qualification is then delivered by our partner with full support & guidance from us – we are with you every step of the way!
We have successfully placed and trained apprentices all over the UK - reception, back-office and IT roles.
Why consider employing an apprentice?
Apprentices bring many benefits to your business – an extra pair of hands, help to reduce staff turnover and allow you to grow your own, well trained, employees of the future. More than 100,000 employers in over 160,000 workplaces currently use apprenticeships to attract new talent, re-skill existing staff and tackle skill shortages.
Facts you need to know:
Apprentices can be either new or existing members of staff (there is now no upper age limit)
Apprentices need to work 30 hours a week or more
Apprentices must be paid at least the National Apprenticeship wage
The employer is responsible for on the job training
Qualifications available:
There are several business support qualifications available that would suit any of your business support roles. Please see below. If you are not sure, then we will help you choose which will be the most beneficial to the apprentice and the business. Downloadable specifications below ↓
What happens next?
All you have to do is complete a 'job template', you can then sit back and we advertise for you looking for will send you over suitable candidates (once we have completed a full screening process). We will arrange/confirm the interviews and make appropriate offers/rejections. This full screening process is free of charge (subject to relevant conditions).
Qualification funding
Employers with less than 50 employers – full funding available for a young person aged 16-18 with the right to work in the UK for the qualification training as long as the employer has under 50 employees.
The Government pay 95% of the training costs for the apprentice if they are 19+.years of age. The employer only must pay 5% of the training cost which amounts to.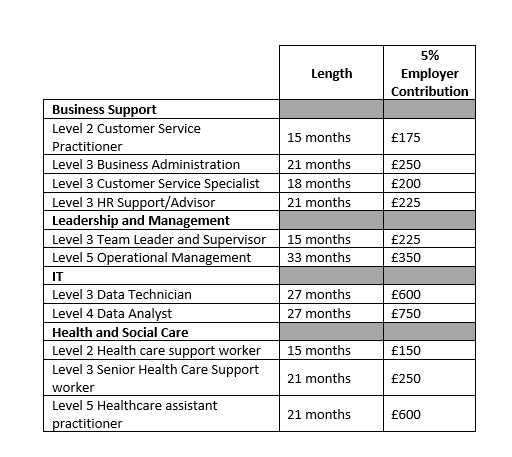 We've increased incentive payments for hiring a new apprentice
Employers will receive £3,000 for new employees of any age who start their apprenticeship from 1st April 2021 to 31st January 2022
The incentive payment is in addition to the £1,000 employers already receive for hiring an apprentice:
aged 16 to 18 years old
under 25 with an education, health and care plan or who has been in the care of their local authority
Apprentices who joined your organisation before 1 April 2021
For new apprentices who joined your organisation between 1 August 2020 and 31 March 2021 aged:
16 to 24, employers will receive £2,000
25 and over, employers will receive £1,500
You must apply for these apprentices before 30 April 2021.
Apprentices who joined your organisation from 1 April 2021
Employers will receive £3,000 for new employees of any age who start their apprenticeship from 1 April 2021 to 31st January 2022
You can apply for incentive payments for these apprentices from 1 June 2021.
What you can use the payment for
The payment is different to apprenticeship levy funds, so you can spend it on anything to support your organisation's costs. For example, on uniforms, your apprentice's travel or their salary. You do not have to pay it back.
Eligibility
You can only apply for new apprentices who joined your organisation between 1 August 2020 and 31st January 2022
You cannot apply for an existing employee who joined your organisation before 1 August 2020, even if they started an apprenticeship after this date.
Need more information? Contact Julie Snape on 01527 557407.