Stop-a-Stroke module
In June 2014, NICE published Clinical Guideline 180 "AF: management" - its aim was to "ensure people receive the best management to help prevent harmful complications, in particular stroke and bleeding". In response to these recommendations the Stop a Stroke project was established with the aim of supporting every Health Board across Wales to initiate a sustainable approach to reviewing the treatment of patients with atrial fibrillation to reduce the risk of having a stroke.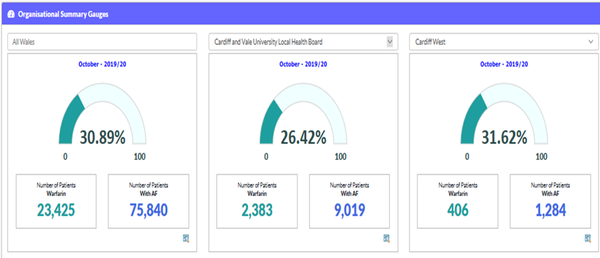 A user guide is available on the portal. The following are examples of reports that are available in the Stop-a-stroke module. Below details the number of patients on warfarin (by Health Board) and the % of patients on warfarin who have had reviews.

The Stop-a-Stroke tables are updated monthly and there is an option to view the data as a graph (as above) or in tabular format.
Users can toggle between tables and graphs, and drill down from HB to cluster reports by clicking on the HB name in the tables or clicking into the bar for the HB in the graph.