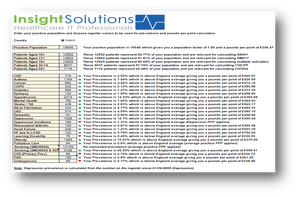 All you need to do is enter in your register totals - this will detail your prevalence and £ per point for each disease area.
Once you then enter each of your denominator/numerator figures it will calculate how many more patients for maximum achievement, £ per patient achieved and how many patients you need to achieve per week/month.
The perfect tool to help you prioritise your workload.

The generate summary box at the top will then summarise the outstanding workload and list the outstanding patients for each indicator as well as workload per week/month and £ per patient.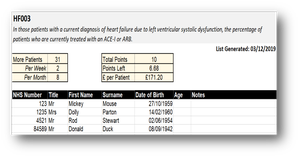 Costs from as little as £50 + VAT (for Insight Members) but options to purchase the spreadsheet only or spreadsheet plus REMOTE dial-in - we complete the spreadsheet for you and then talk you through your priorities.
To order please visit:
https://www.insightsol.co.uk/products/qof-enhanced-services/
(Four options to choose from)