Do you regularly validate your QOF registers?
Do you have any idea how much you could be losing if you leave your registers to manage themselves?
The example below is a real-life practice example.  Practice A had a data quality assessment in January 2017, they then set to work to rectify the issues we identified for them.  We then re-validated their registers in December 2017 – the results of their hard work are clear to see.  Across just 3 QOF disease areas, they have increased their annual QOF income by more than £8,600 (based on current prevalence rates).  Yes, this involved them making improvements to their coding, however, they have not increased their register totals by huge numbers (so not a huge workload) but they have certainly increased their income by a huge number.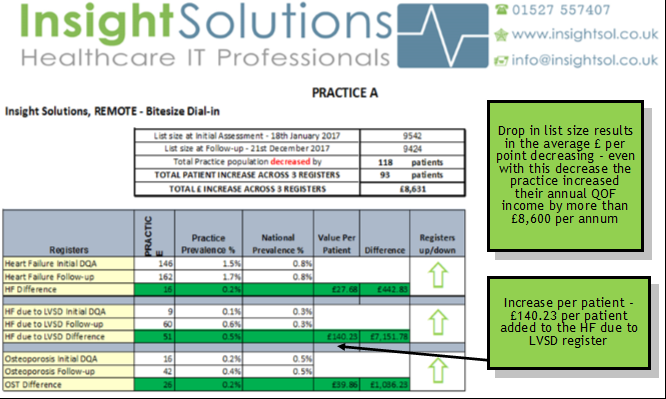 Why have we picked these disease areas?
Because they are the ones still catching many practices out.
REMOTE QOF dial-in (see details on Pg 2) includes us remotely dialling into your system to install and run a series of crafted searches to identify patients 'missing' off the above registers – in most cases, you have done the work incorrect coding means you are not being paid for the work you have done.