QOF 2018/19
Average list size for 2018/19 has risen to 8,096 (was 7,732)

Average value of each QOF point as a result has risen to £179.26 (was £171.20)
1% uplift to pay, 3% uplift to expenses reimbursement
For those practices who list size remain static and the number of patients on each of the disease registers also remain static, you will see a drop in your total QOF income.  For more information on prevalence & QOF Health Check's don't hesitate to call us for more information.
No indicators have been removed and there are no changes to thresholds.
 Vaccination & Immunisations

 Changes to the V&I programme from April 2018 include: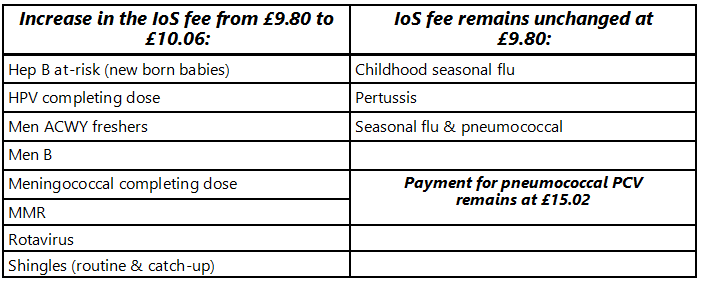 Hepatitis B (newborn babies) - name changed to Hepatitis B at-risk (newborn babies). Vaccine changes & number of recommended doses reduced to 3, payment of the 2nd dose has now been uncoupled from the 3rd dose.  This was an in-year changed effective from 30th October 2017.
MenACWY 18 years on 31st August - PROGRAMME REMOVED
Meningococcal completing dose - cohort extended to include eligible school leavers previously covered by the 18 years programme.  Eligibility now 1st April 2012.
Meningococcal B - programme moved in to the SFE but is not included in the childhood targeted programme, there are no changes to eligibility of payment requirements
Pneumococcal PCV 3 month dose - removed from the childhood programme (the date this is effective from still to be confirmed). Funding for this completing dose will remain at £15.02 
  The detail above does not include some of the other non-contractual changes which we will detail in future editions.  However, the detail above we believe is the more pertinent detail you need for April 2018.